FROM THE SCHOOL YARD TO THE BACK YARD,
FRESH ROOTS URBAN FARM SOCIETY CULTIVATES MEANINGFUL CONNECTIONS
THROUGH ITS ANNUAL HARVEST DINNER
Enjoy Fresh Roots' summer fundraising dinner on August 19 in your own back yard
Growing schoolyard farms while growing community. Expanding on last year's at-home fundraising event, Fresh Roots Urban Farm Society announces that this year's Backyard Harvest Dinner with Friends will be held on August 19, 2021.
The 2021 Summer Harvest Boxes will be filled with everything you'll need to plate a beautiful summertime meal in your own back yard and share it with friends. Fresh Roots has carefully curated the boxes to showcase the talents of fantastic new Vancouver food businesses. Your dinner will include fresh lovingly prepared dishes from the first cohort of Flavours of Hope's Dream Cuisines, a pilot program supporting newcomer refugee women as they launch their food businesses in partnership with Coho Commissary. Ono Vancouver and Kula Kitchen have been instrumental in developing the menu for this year's dinner, and Legends Haul and Organic Ocean are back to provide incredible meat and fish products in addition to other culinary delights.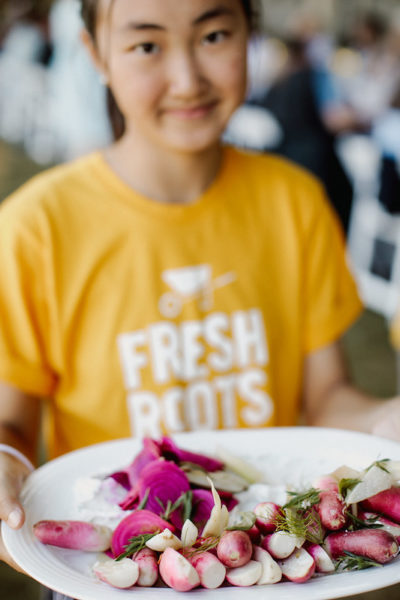 "This year we wanted to partner with local food businesses in a deeper way, not only showcasing and celebrating their delicious offerings but finding opportunities to further support their specific endeavours," explains Alexa Pitoulis, Executive Director of Fresh Roots. "The pandemic has been a challenging time for many businesses—your participation in the Backyard Harvest Dinner supports the work of Fresh Roots as well as many other local food entrepreneurs in our community. The best part is you get to taste all this goodness!"
This simple and delicious harvest meal requires minimal finishing and will be accompanied by lovely touches like flowers for the table, a selection of beverages, and thoughtfully crafted gifts created especially for the Harvest Dinner by the 2021 Sustainable Opportunities for Youth Leadership (SOYL) crew.
SOYL participants and lead, Harveen Sandhu at Vancouver Technical Secondary School, video supplied by Fresh Roots.
Funds generated by this highly anticipated annual event directly benefit Fresh Roots' SOYL program, which empowers youth to connect with their community and with the food on their plate. SOYL teaches participants how to grow and sell food. Youth Crew members learn about every step of the process through hands-on involvement, from planting to harvesting to providing customer service at farmer's markets. They develop valuable farming and entrepreneurial experience while also nurturing their self-confidence and ability to work effectively as a team.
Partners for the 2021 Backyard Harvest Dinner include: Vancity, Legends Haul, Organic Ocean, 33 Acres Brewing Co., Coho Commissary, Kula Kitchen, Ono, Susgrainable, Odd Society Spirits, Plenty Hard Kombucha, VanSuya, Tsawwassen Farm School, The Italian Cultural Centre, UBC Farm, and Flavours of Hope: Dream Cuisines' inaugural cohort (Super Dishes, Egyptian Halal Cuisine, Mis Cazuelas Mexican Food, and Tinkerbake). Additional generous donours will be confirmed in the days to come.
Guests will pick up their boxes on August 18 at the Italian Cultural Centre (limited delivery is available throughout the Lower Mainland with the Orange Toque Delivery 'ADD ON' at check out) before coming together online on August 19 at 6 p.m. for a celebratory program featuring a virtual farm tour, music, and entertainment.
Backyard Harvest Dinner tickets are on sale now via Eventbrite, starting at $150 (plus taxes and service charges) for a dinner for two including beverage pairings.
Fresh Roots Urban Farm Society
GOOD FOOD FOR ALL! Fresh Roots Urban Farm Society envisions a world where everyone has access to healthy food, land, and community. This non-profit organization works to cultivate engaging gardens and programs that catalyze healthy eating, ecological stewardship, and community celebration. Fresh Roots helps schools and school districts across Metro Vancouver grow community through growing food. Working with a variety of partners and clients, it utilizes school gardens to provide opportunities for inquiry-based and cross-curricular learning, volunteering, leadership development, and job skills training that animate school communities across the Lower Mainland.